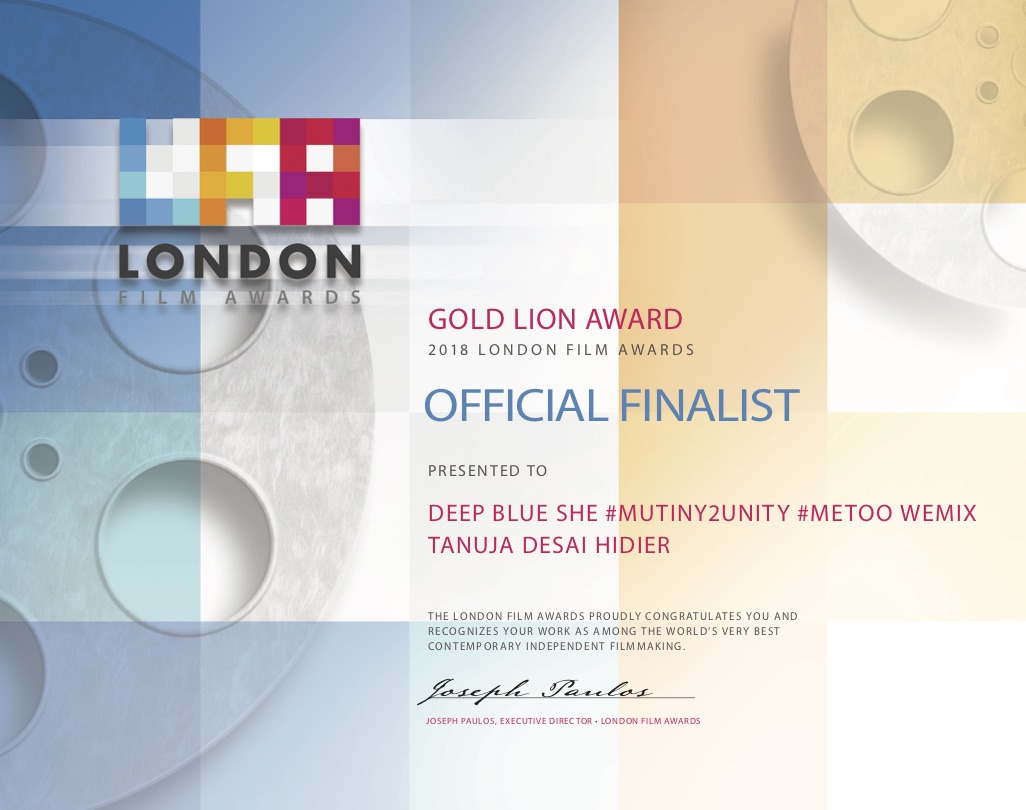 Music video/PSA for women's/ LGBTQ+/human rights and racial/gender equality, featuring 100+ artist/activists. Filmed on our phones, by us, all over the world, over the course of a year.
*OFFICIAL WINNER* London Film Awards (Dec 2018)
a #VogueEmpower Playlist pick for Vogue Magazine, India
a Madame Gandhi #TheFutureIsFemale Spotify playlist pick
featured on the BBC's The Big Debate, with Nomia Iqbal
official Closing Night selection of the South Asian Film Festival of Washington, DC (Sept 2018)
official selection of the DC Art As Voice Festival 2018 for the Asian/Pacific Islander Domestic Resource Project/Sexual Assault Awareness Month (April 2018)
a WOMXN Power Lady Rap II/Night Light Radio playlist pick (Sept 2018)
DEEP BLUE SHE
#Mutiny2Unity
featuring:
ANOUSHKA SHANKAR on Sitar
JON FADDIS on Trumpet
AMITA SWADHIN on Testimony
VALARIE KAUR on Watch Night Service
Tanuja Desai Hidier on Vox
& The We
BUY THE TRACK=ALL ARTIST PROCEEDS TO ROTATING CHARITIES
FIRST UP (Nov 2017-): MAHENDRA SINGH FOUNDATION (founder/president MoniCa Singh features in the Deep Blue She video)
Choose your gift to the good fight (min. 2 pounds) at Bandcamp. Please and thank you.
Do your dance/please share, using hashtags:
#DeepBlueShe
#Mutiny2Unity
#MeToo
Listen to Tanuja talk to the BBC Asian Network's Nomina Iqbal on the Big Debate (Interview starts at 2:07:30)
The Y
Dear Indomitable WE!
DEEP BLUE SHE (#Mutiny2Unity) is a grassroots/DIY music video/PSA intersectionality project for women's / human / LGBTQ+ empowerment and racial/gender equality.
I began working on it one day in November 2016: I was in heavy need of some cheering up and onwards, to say the least, as so many of us were. And my tears of dismay and disbelief felt from a different (creative/positive, once I began to reflect on the project) angle illuminated for me still further my enormous pride in my light-shining community and the wonderful work of its many fierce human rights warriors—many of whom I am privileged to call family, call friend.
That was the spark for this Mutiny2Unity project. And thanks to my team of the usual fabulosas, the wonderful Marie Tueje (cowriter), ATOM FELLOWS (video editor, without whom…!), and Dave Sharma (producer), as well as Tim Cunningham (who one day over coffee many months ago said, Hey, how about getting a bunch of our friends to film themselves dancing around to Deep Blue She and Dropbox over the footage, and that could be the video for it?): Here we are.
And that November day, I began to think: This 'dance' or dance itself could be a political statement, a coming together of all of we 'Others', the whole world over, uniting in the good fight. And the project grew. And grew. From there.
So as well as thanks to the 100+ participants from all over the world/diverse backgrounds, ages, vocations—artists, writers, musicians, filmmakers, teachers, librarians, advocates, actors, farmer, doctor (activists all, mostly women of color)—who took part in this rising up. Onscreen. And off. These include:
Anoushka Shankar (six-time Grammy nominated sitar player/composer)
Elizabeth Acevedo (writer/Poetry Slam Champion)
Priyanka Bose (activist/actor from the film Lion)
Reshma Gajjar (artist/actor/dancer; The Girl in the Yellow Dress La La Land)
Shenaz Treasury (actor/TV host/writer/travel vlogger Travel With Shenaz; in The Big Sick)
Fawzia Mirza (actor/writer/producer/creator; cowrote, produced, stars in Signature Move with Shabana Azmi)
Abhijeet Rane (model/drag queen/artist/activist)
Leslee Udwin (filmmaker/human rights activist; director of India's Daughter)
Ivy Meeropol (documentary filmmaker; Indian Point, The Hill, Heir to an Execution)
Kayhan Irani (storyteller/community engagement strategist/ 2016 White House Champion of Change)
MoniCa Singh (influencer/international philanthropist and president and founder of The Mahendra Singh Foundation to aid girls/women who, like her, are acid attack survivors/ have survived such kinds of trauma)
Mercedes Terrance (an Akwesasne Mohawk member of The Rolling Resistance)
Smriti Mundhra (filmmaker; Best Director with Sarita Khurana at the Tribeca Film Fest for their doc Suitable Girl!)
& a host of wonderful award-winning writers, including: Marina Budhos; Gemma Weekes; Kat Beyer; Uma Krishnaswami; Elizabeth Acevedo; Cynthia Leitich-Smith; Paula Yoo; Sharbari Ahmed; Mitali Desai; Eliot Schrefer; Mira Kamdar; Nico Medina; Billy Merrell; Bill Konigsberg.
The Deep Blue She (#Mutiny2Unity) remix and video feature ANOUSHKA SHANKAR on sitar, JON FADDIS on trumpet, AMITA SWADHIN on Testimony (footage of her Senate Judiciary Committee Hearing Testimony in DC) and VALARIE KAUR on Night Watch Service (at the Metropolitan AME Church).
The video also features original art, much of it created/pasted for the project (The Pink Lady street art in Bombay, by Jas Charanjiva; Deep Blue She Mergrrrl and Mutiny Angry Ladies sculptures by Jaishri Abichandani; Lisa Cirenza's Refugee Blues live digital painting, and more).
Included as well is world news footage, filmed by participants, specifically: the Women's Marches in NYC, Washington, DC, London, and Standing Rock; Standing Rock Water Protectors; and NYC subway post-it protest that emerged immediately after election results. (And the above testimony from Amita and Night Watch Service from Valerie.)
The original song Deep Blue She (which was a #VogueEmpower playlist pick for Vogue India's social awareness initiative for women) is from my booktrack album Bombay Spleen: songs based on my second novel Bombay Blues, which is the sequel to Born Confused.
This song–a female-POV modern-day take on "A Sailor Went to Sea", catalyzed by and in memory of Nirbhaya–was written for all who gloriously inhabit the infinite in-between. Us.
My intention with it was to write a modern-day female/human empowerment-themed dance track, a kind of call to rise up: to love our daughters more. Raise our sons to lay down swords. Stand up for ourselves and each other. Love who we want to love. Be who we want to be. Make room for and celebrate each other.
And create safe spaces for that embrace. East, West: All the world round. All things—necessities–that feel increasingly urgent to counterbalance (and hopefully dissolve, transform) the opposing forces that seem to have flexed in many parts of the world.
In a way this is my birthday present to Dimple Lala (protagonist of both of my novels; considered to be the first South Asian American YA character, who turns 15 this year): a promise to keep celebrating The 'Other', fighting the good fight. On a personal level, it is also this promise to my two daughters, and is a birthday gift to my huge-hearted gentle-handed warrior parents (as was Born Confused, all those years ago).
Given all the insanity/hate crimes/racial tensions of late (and in some ways, always), it feels like a particularly vital and poignant time to celebrate all our 'browns' and 'Others'. The wonderfully diverse skins we're in.
The winds are changing. And now is not the time to give up, fellow dreamers/doers—but rather, gather our forces. Turn that heartbreak to heartmake. We Are Here. And You are You– and that's muscle, mind, heart, soul…and a very strong, steady light in the darkness indeed, one not to be underestimated.
Our hurricane lamps are bright, will not be blown out.
U-N-I U-N-I-T-E!
Xx Tanuja
THE WE
(in order of appearance, left to right)
THE WE
(offscreen/filmed bys)
Neelam Chandwani (MoniCa)
Harshad Mehta (Mehta women)
Elizabeth Hoover (Mercedes Terrance)
Michael Whitehead (Joanne)
Hrishikesh Shinde (Jas)
Alliah Ryza O. Montaner (Alaina)
Billy Merrell (Nico)
Dylan Ann Meeropol Ambrose (Ivy)
Raphael Kabir Aronson (Marina)
Jacob Bjorge (Abhijeet)
Niels Ligtvoet (Lily)
Edilberto Montemayor G. (Pamela)
Pip Jordan (Katie & Lucie)
J. Grant Ball (Rasika) 
Emanuel Abeyewardene (Paloma)
Philippe Fabbri (Mira)
WE-CREATE
(original art/created bys/in order of appearance)
NINA PALEY (Animation from "Sita Sings the Blues")
DREW DERNAVICH (Mutiny/Unity/Unite GIFS)
JAISHRI ABICHANDANI (Deep Blue She Mergrrrl & Mutiny Angry Ladies; filmed by RICHARD OLIVER WILSON).
JESSIE RAE MONCLA ("June Night Sky" collage)
LISA CIRENZA ("Refugee Blues" digital painting, created live at Casa Suraya Refugee Centre in Milan, Italy)
JAS CHARANJIVA  ("Don't Mess With Me"/The Pink Lady, pasted off Waroda Road, Bombay/Mumbai, India; filmed by HRISHIKESH SHINDE)
WAYMON JONES III (Deep Blue She chalk lettering, drawn in Houston, TX, USA)
WE-RESIST/PERSIST
2016-2017
(filmed bys)
Amita Swadhin Senate Judiciary Committee Hearing Testimony (Washington, DC; 1/11/17) © C-SPAN. Used with permission from Amita & in accordance with C-SPAN copyright policy.
Eric Preston/Fusion Films for Repairers of the Breach (Valarie Kaur/ Watch Night Service; Metropolitan AME Church, Washington, DC; 12/31/16). Used with permission from Valarie & Eric.
Leela Marie Hidier (Women's March/London)
Mitali Desai (Women's March/NYC)
Elizabeth Hoover (Women's March/Standing Rock & Standing Rock Water Protectors)
Sharbari Ahmed (Women's March/Washington, DC)
Drew Dernavich (Union Square Subway Post-It Protest/NYC)
WE-INSIST
SPECIAL THANKS
to all who took part, offscreen too, including:
David Gordon
Lucrecia Blair Davis & Paul Davis
Aga & Anthony Forbes
Tim Cunningham & Joss Duffield
Mark Lamoureux
Alexandra Townsend
Saloni Thakkar
Basica Salam
Nerm
Ali Sachedina
Laurelyn & Tyler
Jean Hidier
Suresh, Smita, Nakul Karnik
Swati Khurana
Aleksandr Chandra
Lucia Arteta
Limary Rios
Sebastien Breugnot
Farah Chandu
Guillemette Sanz-Rames & family
Kaylie Jones & Eyrna
Linda Muddiman Rose
Martha Nussbaum
Padma Venkatraman
Ram Devinini
Piyali Bhattarcharya
Yael Farber
Cory Goldberg
Avi  & Tayin (& Rajiv) Desai
Sarah Vinas
Gee Iecker
Jeannie Kim
Sweety Kapoor
Paul Graham
Gaurav Vaz
MEGA MERCIS TO BERNARD.
MANY JOYFUL RETURNS TO DADAMA. & DIMPLE.
THE VIDEO
Produced by TANUJA DESAI HIDIER
Edited by ATOM FELLOWS
Based on an idea by TIM CUNNINGHAM
Filmed by The We, on phones (mostly), all over the world.
THE AUDIO
PRODUCED BY DAVE SHARMA.
Words by Tanuja Desai Hidier.
Music by Tanuja Desai Hidier & MARIE TUEJE.
Performed by Tanuja (vocals), Dave (drum programming/synths), & Marie (synths/backing vocals).
Featuring Anoushka Shankar on sitar, Jon Faddis on trumpet, Amita Swadhin on testimony, Valarie Kaur on Night Watch Service.
This track is a remix of "Deep Blue She" from Tanuja's album Bombay Spleen (songs based on Tanuja Desai Hidier's novel Bombay Blues).
The Words
Words by Tanuja Desai Hidier (*Except news footage lines from Amita Swadhin's Testimony & Valarie Kaur's Night Watch Service.)
Music by Tanuja Desai Hidier & Marie Tueje.
Produced by Dave Sharma.
World overboard!
Better love your daughters more!
World overboard!
Better love your daughters (love your daughters!)
Raise your sons to lay down swords!
Steer this city back on course!
Raise your sons to lay down swords!
Steer this city back on course!
M-U-T-I-N-Y
Y-U-N-I-M-T?
[2x]
M-U-T-I [4x]
M-U-T [4x]
YYYYYYYY?
M-U-T-I-N-Y!
Y-U-N-I-M-T?
Dressed in a suit and tie!
*I was too afraid to tell them my story
21st century!
*I was too afraid to tell them my story
Blackout across the bay
Except where the pretty party people stay
Paying for their ship to come in
Bottom's up to sunup at Lands End
Eye to the telescope
Marauders all around me grope
Yet my lover ain't allowed to dive in
Antiparty posse turn you in:
You blew me.
Blue me.
All quiet on the eastern cuntry
Bolo how the West was won if 3-
-77 say we won't escape
'Less you wedded, then by all means rape!**
Got no permit for a long stiff drink
How a girl supposed to think?
Bar bala bleach and barter her skin
Motherland, turn to friend!
And they don't want our hurricane lamp on
Mumbadevi can you tell me
Why they how who can be?
This city still divided now
That Reclamation be?
Devadasi, make me crazy
Dowry, sati, serve tea
If you the goddess, why the girl
Not safe upon your streets?
And they don't want our hurricane lamp on
Walk the plank; won't keep the blindfold on!
M-U-T-I-N-Y!
Staring out to sea
Y-U-N-I M-T?
Crumbles beneath our feet
A sailor went to sea!
To see what he could she!
And all that she could see see see
Was the bottom, the bottom!
(Her bottom, her bottom!)
He bought her, he pawed her!
(We caught him, we caught him!)
Hands on deck,
From this wreck,
Fortress we seizing!
We will rise
Still entwined
With who the frock we please!
M-U-T-I-N-Y!
Lookout for the enemy
Y-U-N-I M-T?
He's sitting on top of me
Dressed in a suit and tie!
Morality police
21st century?
Puh-leeze!
M- (uh-oh)-N-E-Y
Pillaging oi-oi-oil!
Driving their SUVs
Down a village street…
World overboard!
Better love your daughters more!
*And so the mother in me asks: What if?
What if this darkness
Is not the darkness of the tomb
But the darkness of the womb?
The winds are changing!
The winds are changing!
U-N-I: U-N-I-T-E!
This song was catalyzed by Nirbhaya/the 2012 Delhi gang rape. Please note, to state what is hopefully the obvious, that this line is an unequivocally anti-rape/rape culture reference to and criticism of sections of India's penal code which do not recognize marital rape as a crime. DEEP BLUE SHE is also Bombay Spleen's most direct anti-377 track (Section 377, which criminalizes homosexuality in India, was declared unconstitutional in 2009…but reinstated in 2013) and stands by LGBTQ rights. Which are, of course, HUMAN rights
THE MERGRRRL PLEDGE OF S/HE-WE-SEALLEGIANCE
by Tanuja Desai Hidier
Once upon a time
In the Deep Blue She
Little mergrrrl sighed
Dreamed a woke dream
M-U-T-I-N-Y
Time upon us now
Good tidings we must bring
Ever after our
Happily we swim
U-N-I-T-Y
You blue? #MeToo
Coxswain through crew
We rise, renew
Say 'I do' to
All mergrrrls we have
Lived since yore
Who nevertheless
& allthemore
Persist. Resist.
Raise fin. Wing. Fist.
S/he/They insist:
Pursuit of happiness!
Life Liberty!
Love! Dignity!
Solidarity
For You & Me
Turn the tide
From Dream to Be
Mutiny
2
Unity
Deep Blue She to Shining WE.