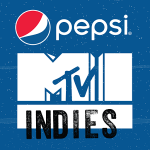 MTV Indies
"Of books and songs, Bombay and more: An author? A musician? Tanuja Desai Hidier switches between both roles effortlessly! Take a look at her new song 'Heptanesia' [airing on MTV Indies now]"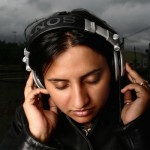 DJ Rekha
"Rhythmically heavy, lyrically sharp, and--though it can be savored independently--an absolute must for Bombay Blues readers, bringing as it does the entire tale's world to your ears."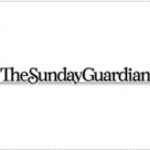 The Sunday Guardian (Cover Story)
"A lovely, jazz-infused ode to Bombay… one of the nicest, most aesthetically pleasing ways to reel in new readers."
Zachary Lazar
AUTHOR / I PITY THE POOR IMMIGRANT & SWAY
"Tanuja Desai Hidier is a cosmopolitan bringer of joy. With unflagging inventiveness, she makes literature that has the glamour of rock and roll, and rock and roll that has the richness of literature. Both her novel Bombay Blues and its companion album Bombay Spleen are irresistible, a totality through which Desai Hidier is making literature new again, and newly exciting."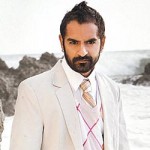 Karsh Kale (musician, producer)
"Heartfelt, and filled with great melodies and imagery."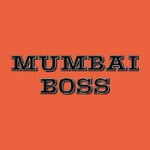 Mumbai Boss, culture pick
"A 'Bombay' song that could easily double up as a James Bond theme…Desai Hidier's jazzy-pop tune ["Heptanesia"] is a worthwhile addition to the small cluster of non-Bollywood Bombay songs around."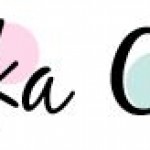 Polka Café, playlist pick ("Heptanesia")
"A laid-back feel, yet shakes your psyche…Push play and cherish the memories of the city."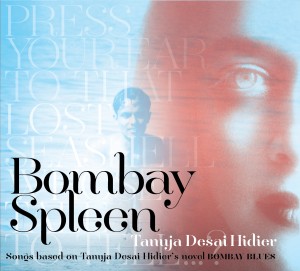 Bombay Spleen: Songs based on Tanuja Desai Hidier's novel Bombay Blues is Tanuja's second album in her groundbreaking genre of the 'booktrack': Twelve tracks of infectious jazz-infused electro-dream-pop 'wreckage rock' based on her award-winning novel Bombay Blues (deemed "a journey worth making" in a starred Kirkus review and "an immersive blend of introspection, external drama, and lyricism" in Publishers Weekly), the sequel to her critically acclaimed literary debut, Born Confused.
The music video for Bombay Spleen ode-to-Bombay track "Heptanesia", (directed by Tim Cunningham) was on rotation on MTV Indies and was a Closing Night selection in the DC South Asian Film Festival (2018). In a review naming it a Culture pick, Mumbai Boss calls it "a 'Bombay' song that could easily double up as a James Bond theme…Desai Hidier's jazzy-pop tune is a worthwhile addition to the small cluster of non-Bollywood Bombay songs around." The track is also a Polka Café playlist pick. Track "Seek Me In The Strange" was selected for the soundtrack of director Liz Hinlein's award-winning feature film Other People's Children (starring Diane Marshall-Green and Chad Michael Murray) and "Deep Blue She" for the #VogueEmpower playlist (Vogue India's social awareness initiative for women).
The award-winning music video/PSA remix project–the Deep Blue She #Mutiny2Unity #MeToo WeMix–has screened at numerous festivals, and is a London Film Awards winner. The remix was featured on the BBC's The Big Debate, SOAS Radio: Pioneers of British Asian Literature, and selected for Madame Gandhi's #TheFutureIsFemale Spotify Playlist.  Outlook Magazine calls it "The 'We Are The World' of our times, with a desi edge".
Stay tuned for the video for "Light Years".
Produced by Dave Sharma, co-written by Tanuja (lyrics/melodies) with Atom Fellows, Marie Tueje, and Dave (with "The MerMary Scat' composed by world-renowned musician Jon Faddis based on / for Tanuja's coda to her novel Bombay Blues), and featuring special guest appearances from Jon Faddis (trumpet/flugelhorn/piccolo), Gaurav Vaz of The Raghu Dixit Project (bass), and Neel Murgai of the Neel Murgai Ensemble (sitar), Bombay Spleen's dozen tracks were recorded in NYC, London, and Belgium. The album draws from the themes of Bombay Blues (many song lyrics are embedded in the novel as well)—love, homecoming, cultural history, and the mapping and unmapping of identity— with the musical narrator's personal journey paralleling the arc of Bombay's development itself, from its beginnings as seven islands later reclaimed to become the city we know today.
Bombay Spleen opens as our narrator takes flight with "Catherine", an ode to Catherine de Braganza, the Infanta of Portugal—and album's 'goddess' number one— whose dowry to Charles II was the islands that became modern-day Bombay. The album's heroine lands in the heart of the metropolis, and embarks on her own oceanic journey there— traveling through a songscape that includes Bombay settings Chor Bazaar, Juhu Beach, Mount Mary, Colaba, Mahim, Mazagaon, Parel, Old Woman's Island, Chuim Village, Union Park, Lands End, Worli Fort, Reclamation (and even NYC and London) — and the once-islands that later became this reclaimed city in, as they were called by the ancient Greeks, the track "Heptanesia". Sinking in and finally learning to swim, with "The Bombay Blues / MerMary Scat" leading us to penultimate closer "Lady Liberty (The Catch)" — a bookending ode to a goddess of freedom —the narrator finally returns 'home' … to find she can't stay: It's not about place; the journey is the only state she can inhabit, the flow where at last she finds her anchor.
At the full-house book and album launch at (le) Poisson Rouge in NYC in September 2014 for the USA release, Tanuja performed a 'rock-n-reading', combining readings from the novel with an acoustic set of linked songs, accompanied by longtime collaborator Atom Fellows.
For the book/album India release in January 2015, Tanuja performed an acoustic 'rock-n-reading' set with album contributor Gaurav Vaz of The Raghu Dixit Project at the Zee/Jaipur Literature Festival (then joined Narcopolis-author Jeet Thayil's band Still Dirty on vocals, opening for Transglobal Underground in what music stage reviewer Eloise Stevens called "the best music night of the #ZeeJLF" [via Twitter] and "an explosive fusion of literature and music". She and Gaurav also performed a Bombay Spleen set at the full-house official book/album release party at Café Zoe in Mumbai (a Mumbai Mirror pick of the day).
Bombay Spleen is available worldwide for digital download (physical CDs complete with lyrics booklet available at CDBaby.com).
Bombay Spleen by Tanuja Desai Hidier
Release Date: August 26, 2014
Label: Igloo By Night Records
Press enquiries/events bookings: ABCreativeD@ThisIsTanuja.com
---
Listen Now
Listen to Tanuja's "Dimple Lala/GayYA Bday Party Playlist"